Fanuc Monitors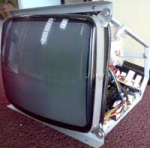 Fanuc CNC Monitors

Fanuc CNC machinery monitor replacements shows the exact replacement for the Fanuc CNC machinery Monitors offered for Fanuc CNC control systems series. Here, at CNC monitors, we have Fanuc replacement CRT and TFT monitors from the following systems. Fanuc control system series 3, 5, 6, 10, 11, 12, 0-series (OM OT OP OG), 15, 16, 18, and 21. This includes Fanuc system series varieties A, B, G, I, M, P, T, also control series-0 such as 0T and 0M varients of core systems 0A, OB and OC controls for lathes, milling machines, EDMs, punchers, etc.

The Fanuc replacement monitors come in mono green, amber mono, highlighted amber & colour CRTs, TFTs, LCDs, ranging from size between 9", 12" and 14" vdu. These are our various offerings to the Machine tools industry that is dependant on Fanuc control systems. Stock of Fanuc monitor replacements is always available and ready to be delivered for new and returning customers globally. The Fanuc monitor replacement is ready to be shipped anywhere in the world.
The various Fanuc Monitors available are as follows:
A61L-0001-0072
A61L-0001-0073
A61L-0001-0074
A61L-0001-0076
A61L-0001-0077
A61L-0001-0079
A61L-0001-0086
A61L-0001-0087
A61L-0001-0090
A61L-0001-0092
A61L-0001-0093
A61L-0001-0094
A61L-0001-0095
A61L-0001-0096
CD14
CD14JBS
CD14JDS
MDT1283B
MDT947B-1A
MDT947B-2B
MDT947B-3A
MDT947B-3B
1051091000
14531400102
14531400107
576744TA
576745TA
579417TA
CNC Monitors India offer CNC Monitor Replacements/Repairs/Refurbishing in India for Mazak, Matsushita, Siemens, Fanuc, GE Fanuc, Heidenhain, Hitachi, Toshiba, Mitsubishi, Sharp, Tatung, Totoku, and Magnetek.